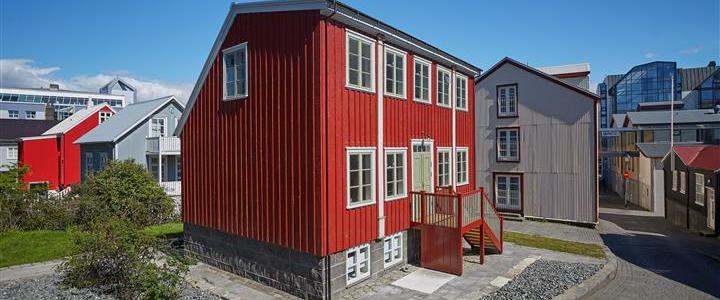 Gröndalshús is the charming former home of writer, illustrator and scholar Benedikt Gröndal (1826–1907). This writer's home in the heart of the old town in Reykjavík has been renovated and opened as a cultural house and residency in 2017, run by the Reykjavík City of Literature.
The ground floor houses a residency flat for visiting writers, artists, scholars and translators of Icelandic literature who want to work in Reykjavik. It can be rented for a period of 2–8 weeks. The fee is 42.000 ISK pr. week which is well under the market prize of lodging in Reykjavík. The flat is fully furnished, with free wifi and is situated in the heart of the city within walking distance from all major cultural institutions, restaurants and other attractions. An additional charge of ISK 3.500 pr. week is charged for each additional guest.
For availability and further information, please write to us at bokmenntaborgin@reykjavik.is.
You can also see a calendar of available dates on the website of the Writers' Union of Iceland.
Description/Amenities
Bedroom with a king size bed.
Living room with a double sleeper sofa.
Fully equipped kitchen with dishwasher.
Dining area (which can also be used as work space).
One bathroom with shower.
Washing machine.
Iron and ironing board.
Hairdryer.
Free WiFi.
Bed linens and towels are included.